National Pi(e) Day
Posted on 14 March 2018
While 7 + 3  doesn't equal pi (or 3.14), it does equal Pie, which in our opinion definitely tastes better!
With just 7 ingredients and 3 steps, you can bake one of our absolute favorite pies. It's featured on allrecipes.com.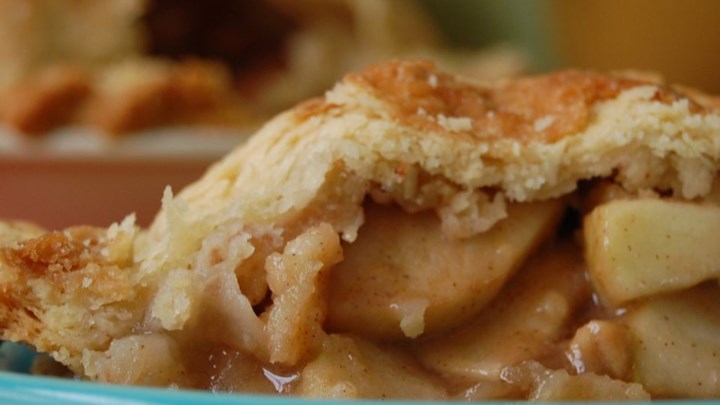 Here is our staff's favorite apple pie recipe:
Grandma Ople's Apple Pie
1 recipe pastry for a 9 inch double crust pie
1/2 cup unsalted butter
3 tablespoons all-purpose flour
1/2 cup white sugar
1/2 cup packed brown sugar
1/4 cup water
8 Granny Smith apples - peeled, cored and sliced
Prep: 30 m
Cook: 1 h
Ready In: 1 h 30 m
Melt butter in a sauce pan. Stir in flour to form a paste. Add white sugar, brown sugar and water; bring to a boil. Reduce temperature, and simmer 5 minutes.

Meanwhile, place the bottom crust in your pan. Fill with apples, mounded slightly. Cover with a lattice work crust. Gently pour the sugar and butter liquid over the crust. Pour slowly so that it does not run off.

Bake 15 minutes at 425 degrees F (220 degrees C). Reduce the temperature to 350 degrees F (175 degrees C), and continue baking for 35 to 45 minutes.
YUM!
 One reviewer who also added a Tbls of cinnamon stated, "The resulting pie was picture perfect in its presentation, and cinnamon taste was just as good. So remember, if you want to add cinnamon, add it to the apples..."
More of a cherry pie person?
"Life is just a chair of bowlies."  -Mary Engelbreit
Here's Chef John's Cherry Pie with Almond Crumb Topping. You had us at Almond Crumb! Chef John is a staple on Allrecipes.com and when our staff sees one of Chef John's recipes, whether pie, his Turkey Sloppy Joe's (another staff favorite) or mac-n-cheese, they know it is going to be good!
So, whether you are calculating equations or calculating your pie options and baking (or eating) one today...enjoy your pi(e) your way!